If this year has shown us one thing, it is that this year is definitely "the year for VDI". Never before have so many people worked from home or mobile. The demand for powerful and available solutions has never been greater.
With the announcement of Horizon 8, VMware underscores once again that its solution is one of the leading products in this category.
VMware has moved to the YYMM-style format. So the new version is named 2006. Let's see what new features Horizon 8, 2006, will have…
Cloud Deployment Options
Advanced Hybrid and Multi-Cloud Deployment Options – Customers can use the cloud or clouds of their choice to cost-effectively deploy VDI and application capabilities on managed infrastructure, with workloads quickly scaled and deployed using the feature-rich VMware Horizon platform. Support for VMware Horizon on Google Cloud VMware Engine and VMware Horizon on VMware Cloud on Dell EMC is now available. Support for VMware Horizon on Azure VMware Solution (AVS) is expected to be available when this service becomes generally available. Each of these VMware Cloud Verified Services builds on the VMware Cloud Foundation, enabling VMware Horizon customers to further leverage their VMware expertise and investments.
Cloning
New instant cloning capabilities: Instant Clone Smart Provisioning helps IT deploy instant clones directly without the need for a parent VM. This frees up larger storage resources and increases the number of desktops per host, reducing VDI and published application costs. Other instant clone innovations include dynamic pool expansion and elastic DRS to quickly scale up and down demand in public and private clouds hosting VMware Horizon, such as VMware Cloud on AWS to meet urgent needs to support their distributed workforce.
Linux hosted applications
Linux applications can now be published directly from a Linux server on the VMware Horizon platform, reducing the cost associated with licenses from other operating system platforms.
Unified Communications
Support for unified communications and collaboration: In response to the growing demand for collaboration tools to support distributed workforces, VMware Horizon now offers, in addition to Zoom and Cisco Webex, an optimized video and audio experience for Microsoft Teams, enabling higher productivity and a better user experience from virtual desktops.
REST API
VMware Horizon REST APIs: The new RESTful APIs help automate the rich functionality available in VMware Horizon 8, including monitoring, permissions, and user and machine management. IT can easily interact with VMware Horizon 8 to achieve additional flexibility, share and access information, and quickly modernize services.
Feature (Re-)Mapping
Compared to Horizon 7, some older features have been or will be removed.
Linked clones in Composer and persistent disks are features that still exist, but will be removed in a future release.
Some features, such as support for older Windows versions, the JMP server, people management, FLEX admin, ThinPrint and the security server have already been removed. Instant Clones are now available for all license types.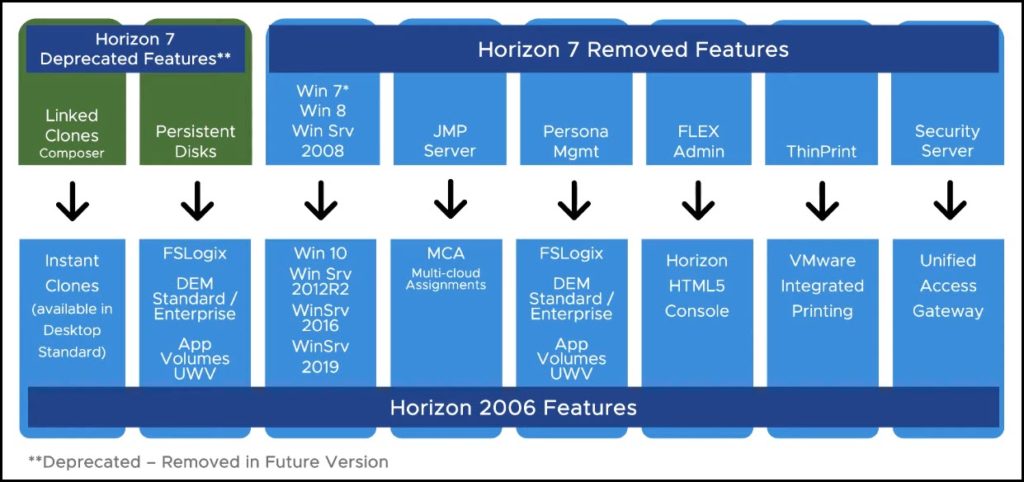 Horizon 8 / 2006 is expected by October. It remains exciting :)