VMware announced a new service called VMware Skyline at VMworld US 2017. It should give the support more information about the infrastructure and the customer a channel were he get advise to his configuration.
Yesterday I joined an Inner Circle webcast to get some more information about VMware Skyline.
The vision of VMware is to radically transform customer support. The support should change from reactive to a proactive support.
How does VMware Skyline work?
You, as a customer, simple install the VMware Skyline collector. An appliance which captures event data and changes in your environment. The collector transfers all data securely to VMware. The Skyline Data Platform tags data for use by multiple applications. All transferred data will be used to detect known issues, aligned with best practises and VMware Validated Design adherence. VMware also could create topology and configuration maps with this data. Technical Support Engineers (TSE) could more simply identify changes made to the environment.
With the Data Engine a VMware TSE could look at events which happened in the past night and not only live on your – maybe broken – infrastructure/product. The analytic is based on VMware Tech experience/known issues but also uses crowd-sourced inputs, gap analysis and pattern matching by the Data Science team.
You will get a bi-weekly report with predictive advise and comparison of deployed products with license data.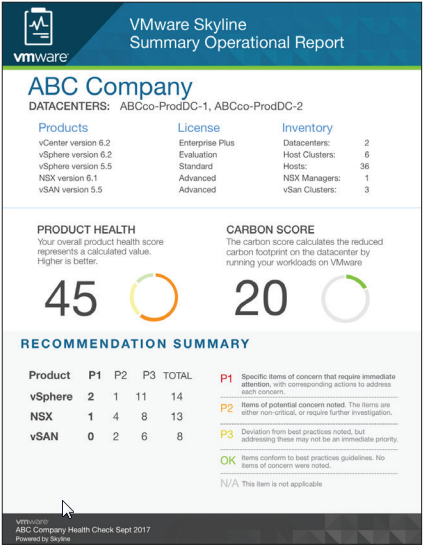 What is the Value of VMware Skyline?
Reduce time-to-resolution for service requests
VMware support could give an environment-specific resolution
Accelerate identification and fix of product bugs
VMware R&D gets more and quicker information. Resolution times would be speed up and disruptions will be minimal.
Avoid issues
VMware could identify potential problems before they occur and gives guidance based on best practises.
Improve stability and reliability
Whit the correction of deviations the overall performance will be optimized and IT focus shifts from problem-solving to meeting business needs.
No additional cost
This is a value-add for all customers with active support subscriptions. Initially available for Premier Support, later for Production Support.
Which products will VMware Skyline support?
VMware will adopt more and more products to VMware Skyline. Today it is vSphere and NSX. All following dates are Roadmap dates and not all of them are fixed.
Q4 FY18 – vSAN
Q1/Q2 FY19 –  SDDS aaS (VMC/AWS)
Q2/Q3 FY19 – Horizon (EUC)
BEYOND – vRealize Operations & Airwatch

When will VMware Skyline starts for me?
VMware will starts this service in America and later in EMEA and APJ/ANZ. Premier Services will get it earlier then Production support or OEM Partner Support customers
America

Q3 FY18 – Premier Services
Q2 FY19 – VCCP & SISO Partner Support
Q3 FY19 – Production Support

EMEA

Q1 FY19 – Premier Services
Q3 FY19 – Production Support
BEYOND – OEM Partner Support

APJ/ANZ

Q3 FY19 – Premier Services
BEYOND – Production Support

How to sign up?
As the regions are coming step by step, VMware will add customers step by step. It is like reserving a Tesla Model 3 – first come first serve.
You can already sign up.  Sign Up – Managed Access program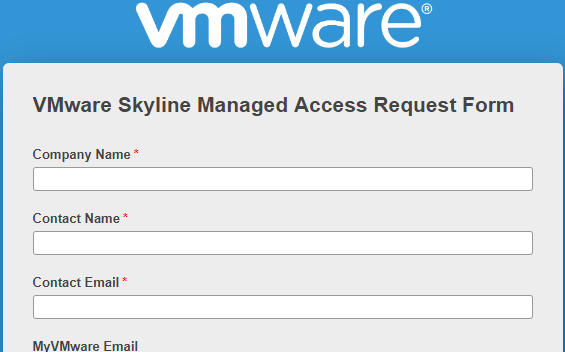 Conclusion
I think VMware made a very good job. The call home function is not a new thing in the industry. But the analysis of the whole environment combined with advised related to the customer is another matter altogether. If VMware could manage the balancing act between collecting bunches of data and giving good specified advises and proactive solutions to customers it really would be a radically change in customer support. The fact that this service is value-add and comes with no extra cost makes it much more interesting. For Europe I'm curious of the adoption and discussion about data protection.
Additional Information
VMware Skyline Service
VMware Skyline Datasheet
VMware Skyline Solution Overview
Sign Up – Managed Access program