This article will show how to upgrade your existing Vembu BDR Server v3.9/3.9.1 to v4.0.
Keep in mind that the upgrade to v4.0 only is possible from v3.9/v3.9.1!
Upgrade Path
The Upgrade of Vembu BDR Suite can only be done from immediate previous version to the latest. All older versions must be upgraded from one version to the next one. Here is the current Upgrade Path from Vembu
Current Vembu BDR Suite Version
Upgrade Path
v3.9/v3.9.1
v3.9/v3.9.1 → v4.0
v3.8
v3.8 → v3.9.1
v3.7
v3.7 → v3.8
v3.6
v3.6 → v3.7
v3.5
v3.5 → v3.6
Older Version
(v3.0, v3.1.0, v3.1.1, v3.1.2, and v3.1.3)
Older versions → v3.5
Preparation
Supported Operating Systems for Vembu BDR Server
Windows Server 2016
Windows Server 2012 / 2012 R2
Windows Server 2008 R2
Windows 10
Download Installer
Upgrade Offsite DR
If You are using Offsite DR update it to v4.0 before you start the Upgrade to BDR Server v4.0.
Upgrade BDR Server
Execute VembuBDRSetup.exe with "Run as administrator"

The Installation Wizard starts. Click Next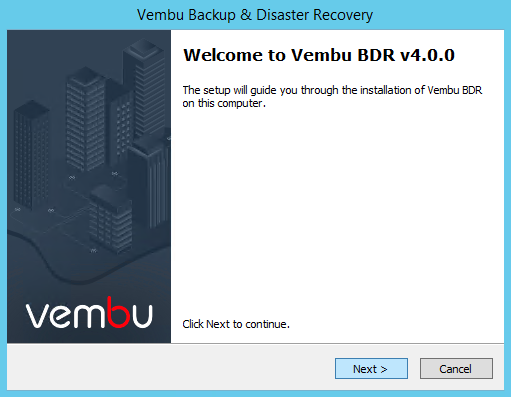 Accept the license agreement and click on Next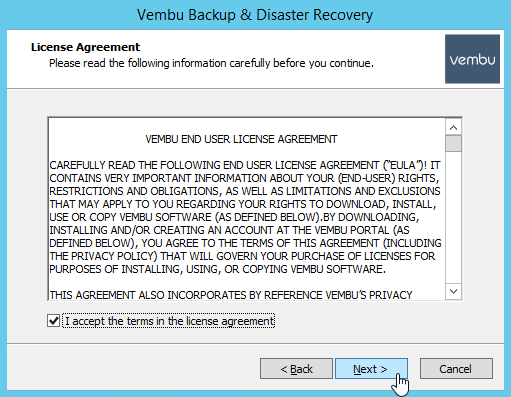 The Installer should identify the older version of BDR Server and inform you that this version will be upgraded to v4.0. Another information is that your existing Hyper-V and Disk image backups requires a full schedule, because the driver for CBT will be changed.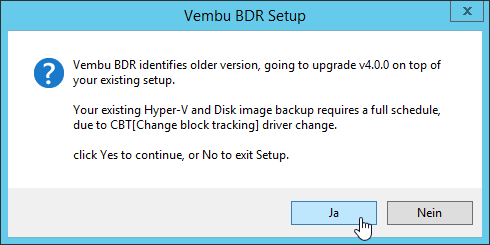 Review the settings and click on Install to start the Upgrade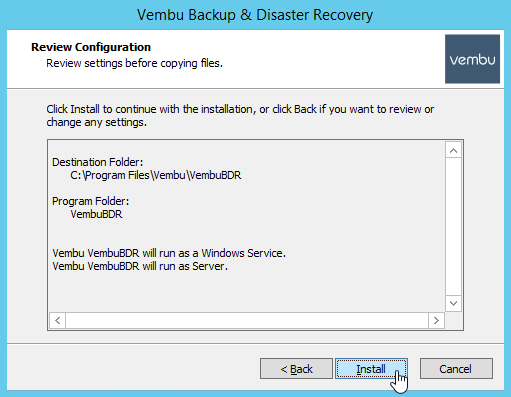 Confirm that the running BDR services will be stopped and started after the Upgrade is finished. Click on Yes

The Upgrade will take a few moments…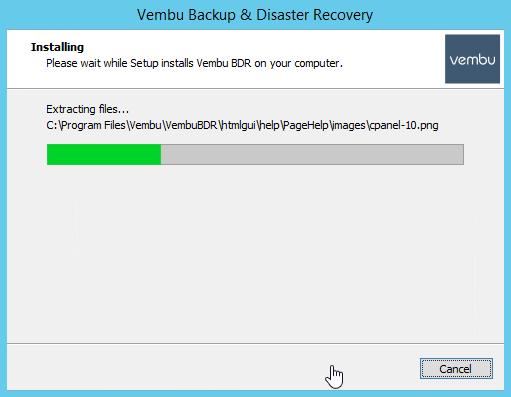 After the installation is complete, click on Finish to start the BDR application and open the Web Console.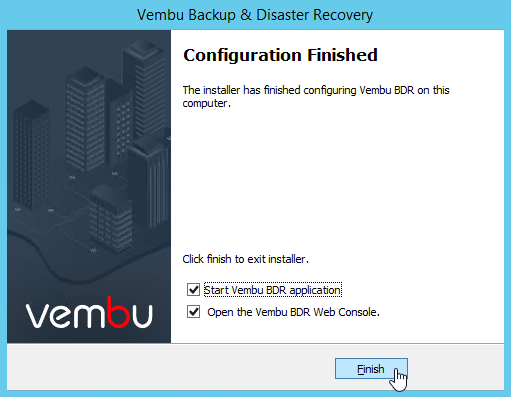 You can verify that the services (BDR Server and WebServer) are running.

Login to the Web Console (http://localhost:6060) Default User and Password is admin admin
Select About Us in the "Questionmark-Menu" to shwo the installed version.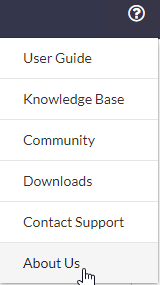 Now you schould be running on v4.0 of Vembu BDR Server :)
Additional information
Vembu BDR Suite v4.0 GA – Release Notes
Software Update Guide