On December 14th VMware released VMware NSX Data Center for vSphere 6.4.4
After three month the NSX release of 6.4.3 will be upgrades with 6.4.4. The new version brings usability and serviceability enhancements and fixes severall bugs.
New Features / Fixed Issues
The list of what's new and what's fixed is long this time. Hier are some of the important changes and fixes:
NSX User Interface
VMware NSX – Functionality Updates for vSphere Client (HTML):
The following VMware NSX features are now available through the vSphere Client:
Logical Switches
Edge Appliance Management
Edge Services (DHCP, NAT)
Edge Certificates
Edge Grouping Objects
For a list of supported functionality, please see
VMware NSX for vSphere UI Plug-in Functionality in vSphere Client.
Networking and Edge Services
Static Routes per Edge Service Gateway:
Increases from 2048 to 10,240 static routes for Quad Large and X-Large Edge Service Gateways.
Fixed Issue 2126743:
IP address of VMs not published to addrset when VMs added to security group.
When a VM is added to securitygroup, the IP of the VM doesn't show up in the addrset. Traffic fails, as the proper policy is not applied to the VM, even if it is part of a properly-configured security group.
Fixed Issue 2192486:
Multicast south to north traffic forwarding will stop after upgrading from NSX 6.4.2 to 6.4.3 if underlying unicast routing is through static routes and HA mode is disabled
If you are running multicast streams between source inside NSX and receivers outside NSX and the underlying unicast routing is through static routes, and you upgrade from NSX 6.4.2 to 6.4.3, the traffic forwarding will stop for the existing multicast streams. Multicast streams created after the upgrade are not affected and are forwarded.
NSX Manager
Fixed Issue 2220325:
Tech support bundle contains files with plain-text passwords.
Password for postgres, rabbitmq are available in plain-text config files of tech support bundle and can be retrieved.
Fixed Issue 2208178:
After NSX Manager reboot, NSX VIBs installation task is shown as continuously running in the UI on the Host Preparation tab.
EAM does not start the installation of NSX VIBs.
Interoperability
NSX 6.4.4 is compatible with vCenter Server e.g. ESXi from 6.0.0 U2 and newer.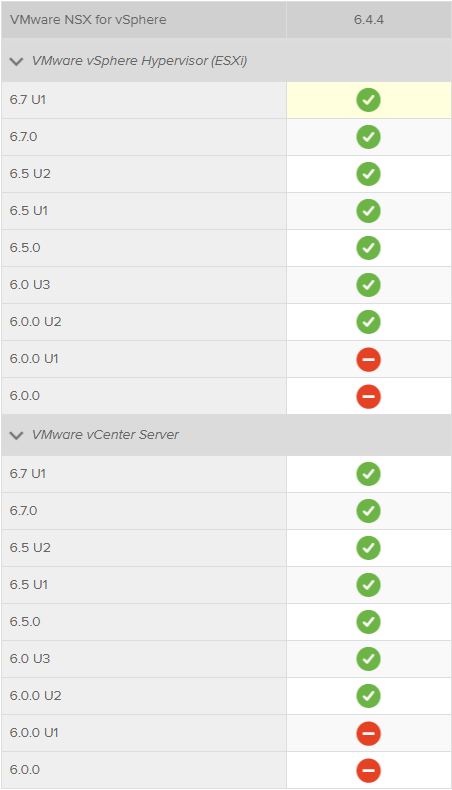 Release Notes
Full release notes can be found here at vmware.com.