The German VMUG UserCON 2016 is over. My first time ever attending a VMUG User Conference. One day full of information, updates and networking. VMware invited the vExperts to fill the "vExpert Corner" with life and give UserCON attendees the chance to ask questions to solutions they want to implement and with this combined pitfalls they don't want to fall over it.
So, I followed the invitation and was at the vExpert Corner, but also visit some sessions…
Openening speech – Duncan Epping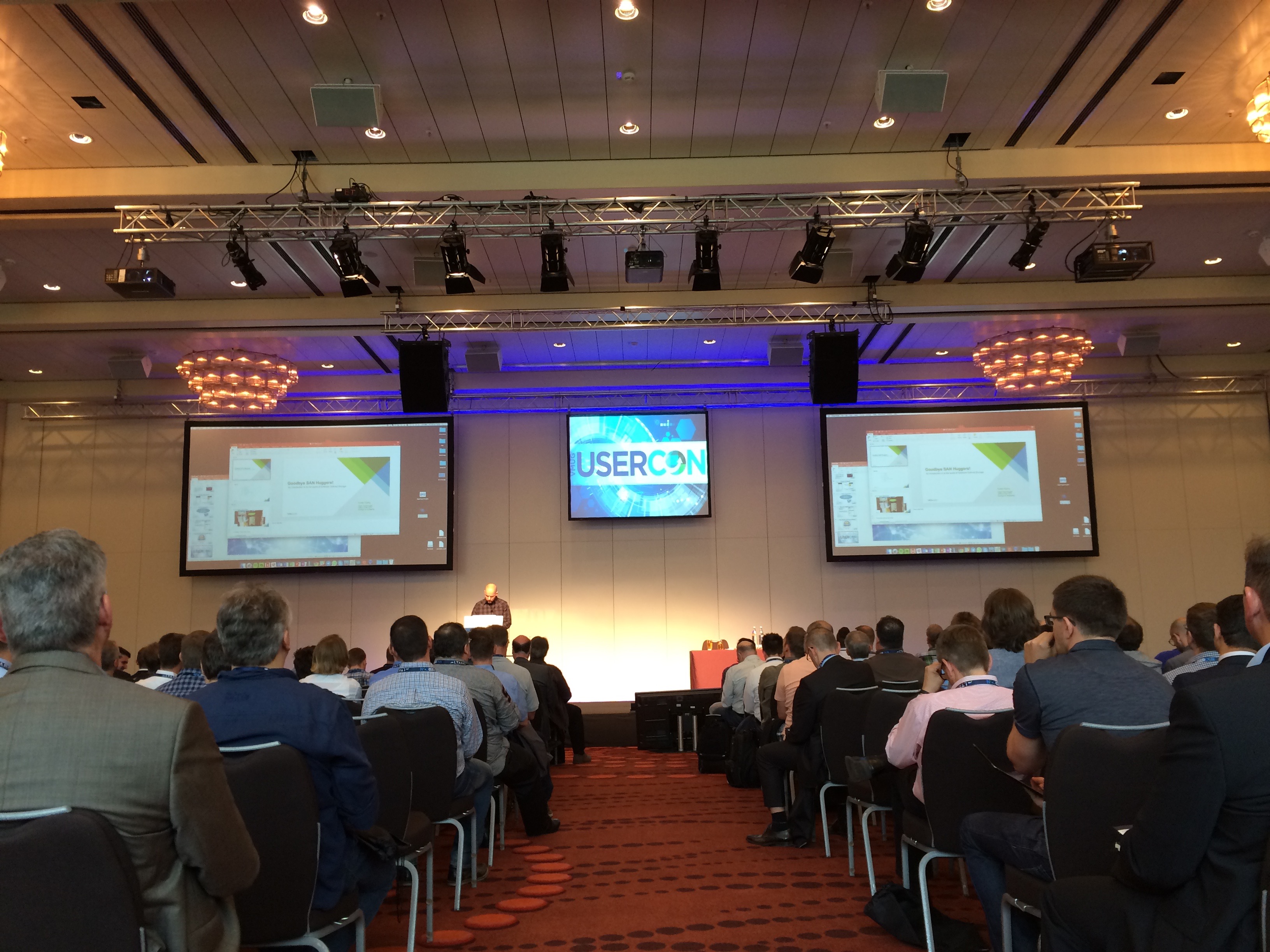 Duncan Epping was the speaker who opens the German VMUG UserCON. With his little provocative session "Goodbye SAN Huggers!" – read my full review here.
Oracle licensing on virtual platforms
Daniel Hesselink (License Consulting) shows the difficulties in reading the contractical and "informational" documents of Oracle. He consults with his company Oracle customers who are contacted by Oracle, getting a licensing audit or want to get all those things clear before one of these points came to them.
He could show that not all what Oracle sales is saying must be met by Oracle's legal department. The contractical papers could defer from the whitepapers, which are going around in severall forums or websites on the internet.
If you are scared with your Oracle licensing, maybe you call him :)
Size doesn't matter – smallest hyperconverged datacenter
In this session Benjamin Ulsamer (vExpert / teamix GmbH) shows us his approach to build the smallest hypercongered datacenter. On a space of 20cm x 20cm x 20cm he uses 3 Intel NUC to get his vision done – read my full review here.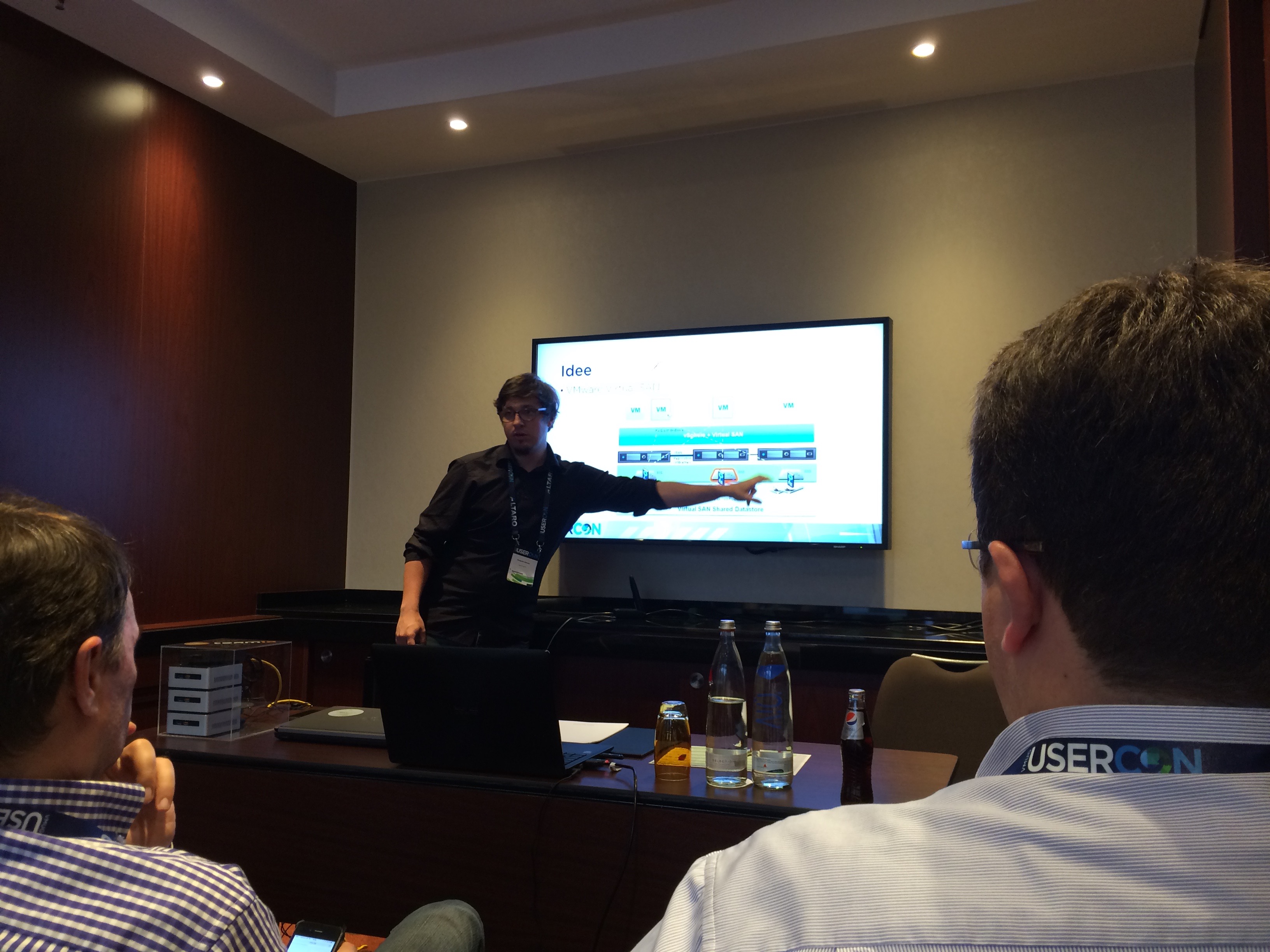 Virtual SAN 6.2: What's new and install and troubleshooting tips
Andreas Scherr (vExpert / VMware GSS) brings the new features, which came with the new version of VSAN 6.2. He explained what difficulties could occur with replication, deduplication between VSAN nodes or VSAN Cluster which could be on-site or spread in two datacenters (stretched cluster).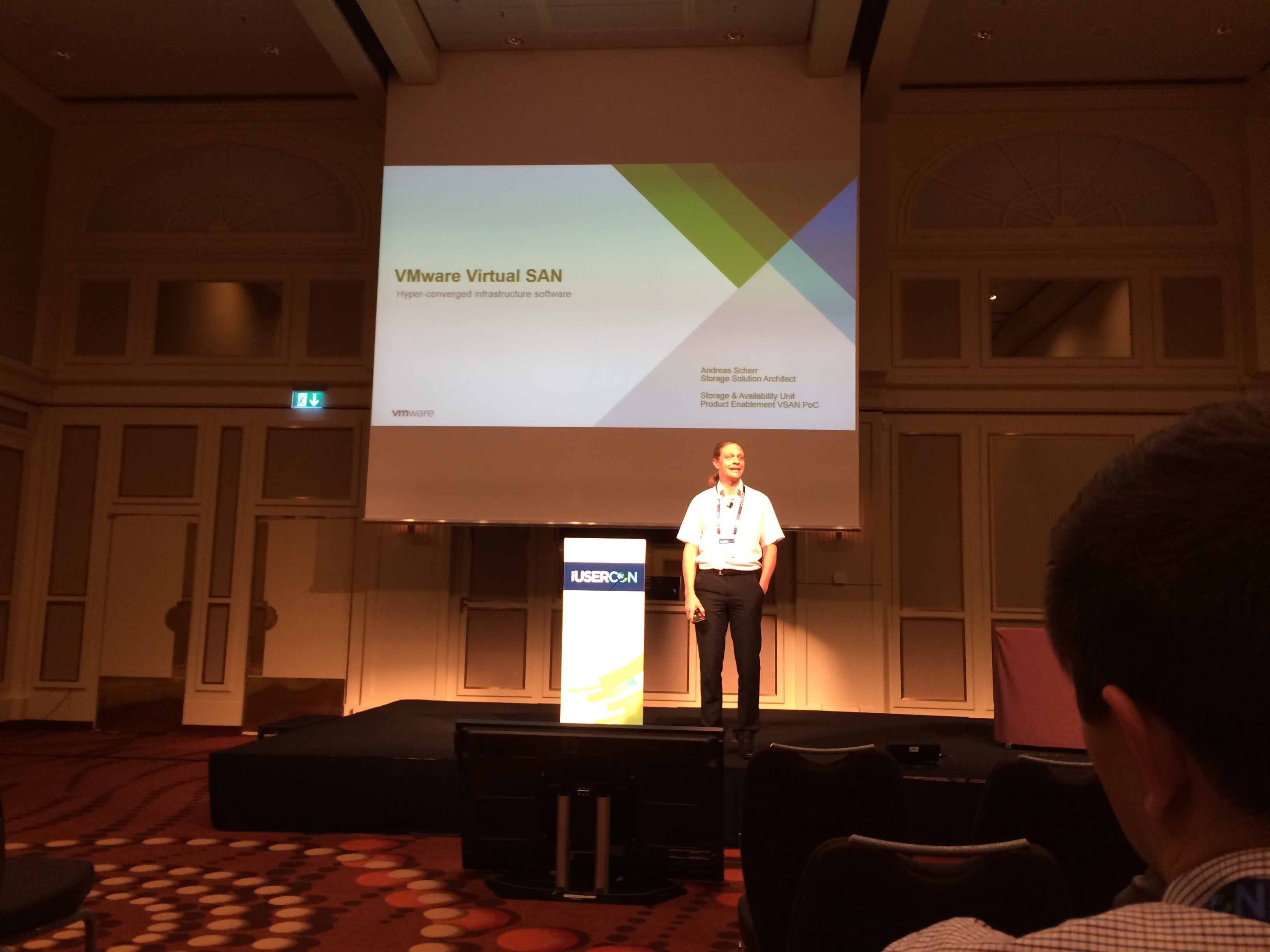 Last session – Joe Baguley – Wind of Change.IT
With his session Joe Baguley brings the UserCON to the end. He shows how we could go with the new techniques and have to change our mind to the new things which are coming. He told us that we need people who wants to test all new things, who are running to you and say "hey, this thing is awesome, I want to use it here, we could be the best in the market with this thing!…" He illustrated the it landscape and their workers with the cowboy and settlers in the USA. Without those men, the USA would never be colonized with settlers and after that with urban people. And it is also in the IT… with no "cool stuff" we all would use terminals, cobol and mainframes (I know there were many other IT things before) and not virtualization, hyperconverged systems, software defined everthing and so on…
Thank you Joe for that really humorous but also real session!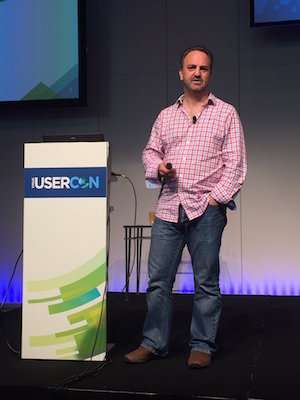 Rüdiger Melzer & Peter Shepherd
Special thanks are going to Rüdiger Melzer and Peter Shepherd. I am glad that I could meet you. At the end of the conference we could talk a little bit about VMware customer experience program, the WebClient and the new HTML5 WebClient. It was an amazing event and I will defenitly at the next UserCON, happy if I could help at the vExpert Corner again :)